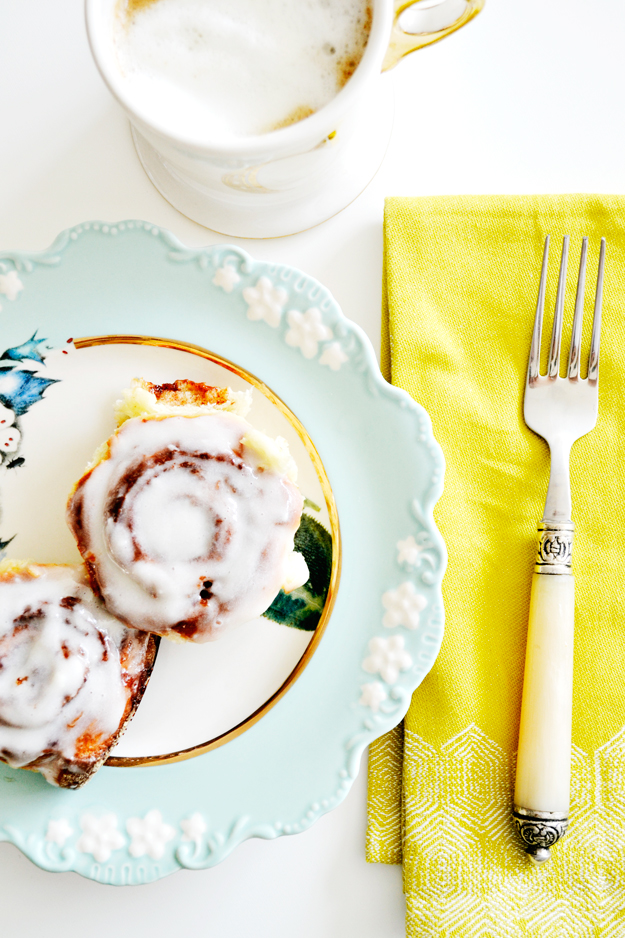 Thanksgiving morning I set out a plate of these for my husband.  We were busy cooking and baking for our dinner, but wanted something yummy for breakfast before the feast.  I made the dough the night before and then popped these into the oven first thing in the morning.  They were delicious!
I hope you'll have the chance to enjoy these rolls on Christmas morning, New Years or special morning with friends and family. This recipe makes about eight rolls, but you can slice the rolls as big or as little as you like!
Cinnamon Rolls with Pumpkin Spice Filling
---
Ingredients, for the dough
1 package active dry yeast
1/2 teaspoon and 1/4 cup of  granulated sugar
1/4 cup of 115 degree water
1/2 cup whole milk
2 tablespoons of brown sugar, packed firmly
1 teaspoon of vanilla extract
1 egg
1 egg yolk
2 3/4 cups of AP flour
3/4 teaspoon of salt
1 stick of unsalted butter, softened
Ingredients, for the filling
1/2 cup of granulated sugar
1/2 cup of brown sugar, packed
1 tablespoon of ground cinnamon
1 1/2 tablespoons of pumpkin spice blend
(mix of ground cloves, nutmeg, cinnamon, allspice and ginger)
3 tablespoons of maple syrup
1 stick of unsalted butter, melted
Pull out your stand mixer or a large bowl and hand mixer. Create a small dry mixture of the yeast and 1/2 teaspoon of sugar in the bowl.  Add the 1/4 cup of 115 degree water.  You can warm it up just before hand in the microwave and use a thermometer to check the temperature.  It will feel warm to the touch.  Stir the water, sugar and yeast and allow to sit a few minutes until it become foamy.
Next add the 1/4 cup of granulated sugar, whole milk, brown sugar, vanilla, egg and egg yolk. Whisk on medium speed until combined. Switch from the whisk to dough hooks and add the flour and salt.  Mix on medium speed until combined.  Turn up the speed to medium-high and mix the dough for 4-5 minutes.
Mix in the softened stick of butter and knead on medium-high speed for 5-6 minutes. When ready, the dough will be sticky and elastic. Scrape the dough from the bowl and put on a floured surface.  I like to use a pastry cloth, it costs just a few bucks and keeps my counters clean. Knead about 1/2 cup of flour into the dough and then place in a greased bowl to rest for almost 2 hours.  Cover the bowl with plastic wrap or a damp paper towel.  The dough should double in size.
For the filling…